---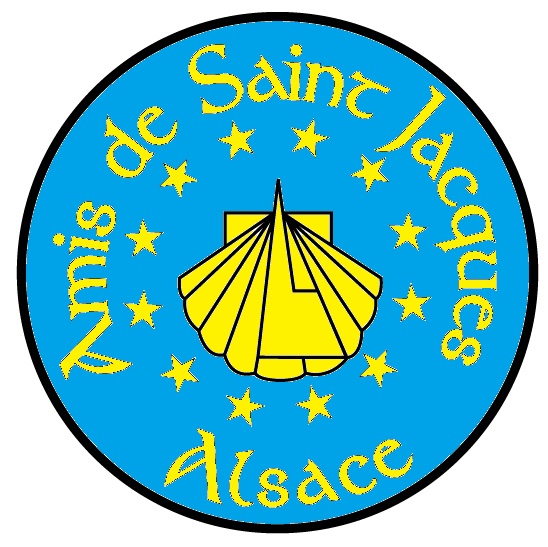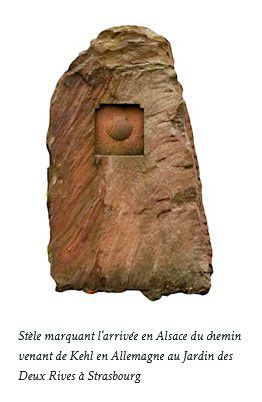 History of the Alsatian path
The association had a route marked out by the Federation of the Vosges Club and thanks to the financial support of the Regional Council of Alsace, linking Wissembourg and Belfort, with the junction of the German routes.
It is illusory to believe that we could retrace a historical route today. The Jacobean routes of yesterday have become modern communication axes with heavy traffic.
Rather than imposing a questionable "historical truth", the choice of our association has been to give pilgrims an itinerary linking places charged with Jacobean history. Thus, the paths in the Vosges mountains, the vineyard tracks and the paths in the low forests create a very attractive route of today.
It allows you to discover an Alsace far from the folkloric images, whose spirituality is manifested at each crossing of this very natural path.
The route chosen by the Friends of Saint James in Alsace, to which the paths coming from Germany are connected, is marked out from Wissembourg to Belfort. Our friends from Franche-Comté have marked out the continuity of the path towards Cluny and Vézelay.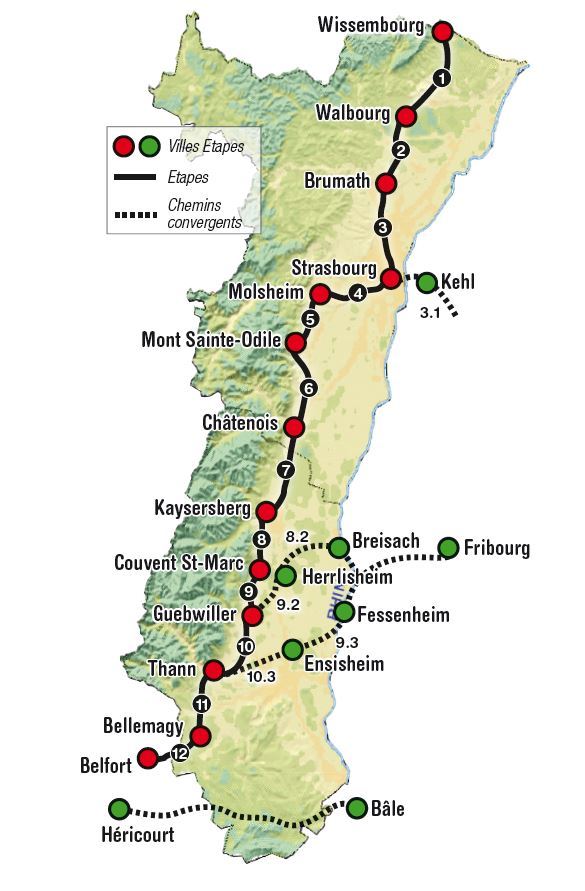 Some of the towns crossed by the path have decided to mark the way with
bronze nails. These nails, manufactured on the initiative of our association, can also be ordered for personal use.
They are fixed in the support (ground or wall) by a rod to be embedded. These nails are very slightly curved and do not represent an obstacle for pedestrians.
There are 12 stages totaling 270 km of very pleasant trails
Since 1997 pilgrims have gone to Compostela by bike. On their return they came to the Stammtisch of Châtenois and naturally they described their routes. There are two possibilities for cyclists: one for climbers, a second easier one.
The Friends of Saint James in Alsace have another route, the one leading to Rome. These routes, Compostela and Rome have been practiced, notes have been taken. All this is available. Thanks in large part to Maurice Brenner, we have interesting information to face and appreciate these routes, as much in terms of accommodation, as in terms of the heritage to be visited not to be missed in France as in Spain, and even in Italy.
To obtain this information, please contact the Stammtisch of Châtenois which takes place every first Tuesday of the month at 6:30 pm (except in August). The Marcel Rudloff guesthouse is located near the church of the commune.
---
Date de création : 2021/12/28 # 09:52
Page lue 17796 fois
---